Today, in 1051 Magazine, we talk to Xavier aka Oniris, on the occasion of the release of his collaboration with Marc Romboy. Flush EP is released by Systematic Recordings, the label from the Mönchengladbach producer.
– Hello Xavier, thank you very much for taking the time to attend us. We always want to know a bit more about the early moments of the musical life of our interviewees. Did you have any musical education in your childhood or teenage years? And, apart from education or training, what were your first musical memories, those first records, songs or artists?
Hello guys. I have no musical background and had no musical education in my childhood but I've always been listening to a lot of music. Thanks to my father who listened to this music at home, I mainly listened to Jazz and soul music. My first musical memories were "Michael Jackson – Thriller" when I was 5 and "Stevie Wonder – Songs in the key of life" plus all the artists of the Motown label.
– In some biographies we have read that it was in the second half of the nineties when you decided to buy a pair of Technics and started collecting vinyl, the beginning of almost every DJ in those years… Can you tell us about those early days, those first influences as a DJ, if there was anything special that made you decide to start?
I discovered electronic music in the mid-90s in a club in South of France where the resident Dj used to play Chicago House, European and Detroit Techno. I was so fascinated by his way of playing records that i decided to buy myself a set of technics 1210' and started my own 12" collection. My first Rave Experience was the Limelight Party in Cannes and my first festival was Borealis in 1998 in Montpellier where Laurent Garnier, Jeff Mills, Richie Hawtin, Sven Vath were playing. I took the slap of my life there and when I moved to Paris later, I spent all my time in the vinyl shops looking for the music I'd heard during the weekend. Production came later with the discovery of the software called Reason.
– We have also read that at the turn of the century you started to organise raves with some friends… when, how, how long did it last?
During the summers 2002 and 2003, we organized free parties with friends in south of France and 2 or 3 raves where we invited the local scene to play and Djs like Jack de Marseille.
– So far, we have talked about the Xavier DJ, which is almost always the first stage in the career of many producers. But… when and how does that first track arrive, where do you record it? Was it at home or in a studio? And we would also like to know how or what made you take that step towards production.
I started producing because I wanted to understand how electronic music was created. I was producing for almost 10 years before I sent my first tracks to labels. During those 10 years, I spent a lot of time improving my production techniques and learning musical theory which is not an easy thing for a person with no musical background (and no Youtube channel, tutorials… at that time!). I went to recording studios to analyze how bands were creating music. I finally had my first single achieved in 2011 including the track "The Rebirth". I had recorded it at home on an ipod speaker with almost no knowledge in mixing, which seems crazy to me now.
– In those years you were travelling around the world, and it was during those stays outside France that you started to get more involved in music production. Precisely your first two released tracks, The Rebirth and Leaving Earth were created in Nouméa, the capital of New Caledonia, in the heart of the South Pacific. And your first release comes out with the support of perhaps the most successful Frenchman in electronic music, Monsieur Garnier, and is released on Bedrock, no less… and Oniris was born, how did it all come about?
When my track "The Rebirth" was finished, I posted it on Laurent Garnier's Soundcloud page without expecting much and to my surprise, I got a feedback from him the next day telling me that he loved the track and that he wanted to play it at Timewarp at the weekend. I then received the video where he played the track during his set which was awesome to me. Then, he asked me to keep the song for him because he wanted to release it on the new label that he was supposed to start with Agoria but this project did not happen. So I came back to Bedrock and the EP was released in march 2013.
– Since that first great EP, your releases have seen the light of day on major labels such as KMS, Ovum or Hertblutz, although there are a number of them on Astropolis, the Brest-based label directly linked to the music festival of the same name. What is your relationship with the festival and the label?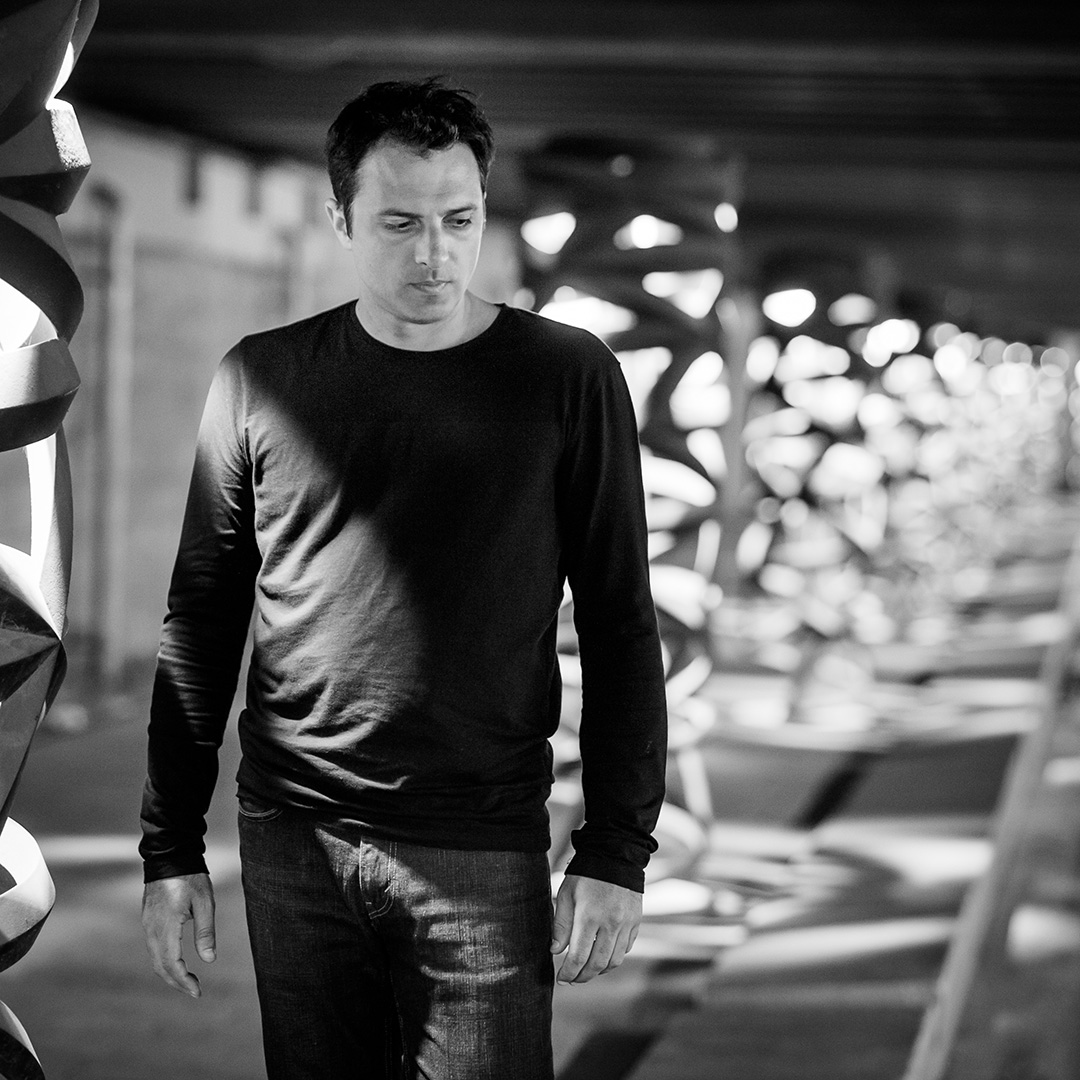 Astropolis is my family, my home. They are my booking agency and very close friends. I released the second EP of the label after the first one from my friend Madben. Since then, I've been to every edition of the festival and played there as a DJ and live. We are always in touch and I often ask their opinion on my new tracks.
– In 2016 you released Meharee EP on Marc Romboy's label Systematic Recordings. How and when did you meet the man from Mönchengladbach?
Marc first contacted me to release my track "The Rebirth" in 2012 but unfortunately, because of my engagement with Laurent Garnier, this could not happen. So I kept sending him demos and finally, we released the Meharee EP on his label Systematic in March 2016.
– From the release of that EP to this First Blush EP, you've only released a couple more EP's and a track on a Systematic compilation… what has kept you away from the studio? Maybe other professional commitments apart from music?
It is very difficult to live as a DJ / Composer, so at some point, I had to iron my professional career as a priority. If you add to that the renovation of a house… then there's no room left to make music
– Before we talk a bit about First Blush, let us ask you about your workplaces, favorite gadgets and production methods. Where do you produce, do you have your studio at home or in another location?
As I started with the software Reason, I've always been working on a laptop. It can be at home in my studio, in a plane, … This is why I love to produce this way, I can do it everywhere and whenever I want. Most of the time, I start a track with the generation of random melodies and, from this mess, I extract loops that I find interesting. I have developed my own effect racks in Ableton to make it.
– Are you more hardware or VST, analogue or digital? Which are your favorites?
As I said before, I work on my laptop so I use software and VSTs and I give an analogue feel to the sound with plugins. I use Ableton and my favorites Synths are Diva and Serum. On the advice of Marc Romboy, I've just bought my first UAD plugins and I have to admit that they really help to improve my sound.
– First Blush is your second collaboration (although he has also remixed a track for you before, Odysseus) with Marc after recording Eternity together, a track that was released last October on the Music From Space – Dimension A compilation, released on the German label. How do you work, as I imagine you are usually based in Nice and Marc in his native Mönchengladbach?
As you say, Marc and I live far from each other. So, when we collaborate, the first ideas are created separately, then we develop these ideas together through an online Ableton session. To finalize the arrangement, the mixdown and the last details, we finally meet to have studio session together.
– First Blush is an excellent track. It has a perfect ascending line, marked by a rhythmic pattern that makes it a perfect dancefloor killer. And the remix by Extrawelt is a real treat, deconstructing the original into two completely different parts. How did you choose the Hamburg duo to do this distinctive remix?
We chose them first because we love their music and we thought with Marc that their sound signature could really fit with the track and this "Music from Space" concept.
– What does 2022 look like for Xavier aka Oniris? Can you tell us about any plans for the immediate future?
I have a few gigs coming in 2022, next one will be at the Shapes festival in Leysin-Switzerland on the 2nd of April. I am currently finishing a new EP for Astropolis and we keep continue to collaborate with Marc on exciting new projects.
– Again, thank you for the time you have given us, and we hope that this new EP will be a success.
Thank you, you are welcome!
---