The covid pandemic has spoiled the Hartnolls' thirtieth anniversary in the music business, but it has also had a positive side, as Phil and Paul have had more time to think about what to do with this special occasion.
There is no doubt that without Orbital, today's electronic music would not be the same. Allow me to take a trip back in time to remember the first time I saw them live in 1996 after a tremendous sonic storm by the Chemical Brothers. With a lot of experience behind them, Paul and Phil took that stage and cleaned up the tremendous musical wreckage that the Manchester band had left behind (in the best sense of the word, their performance was unforgettable). Little by little they brought the waters back to normal and when the time came, they were as forceful or even more so than their predecessors.
What was very clear was that those two guys, surrounded by hardware and armed with their mythical torch glasses, confirmed what we had already been seeing for a few years. They were going to be legends, and their music was going to mark an era after having already bequeathed a few generational anthems.
But let's get back to what we're talking about today.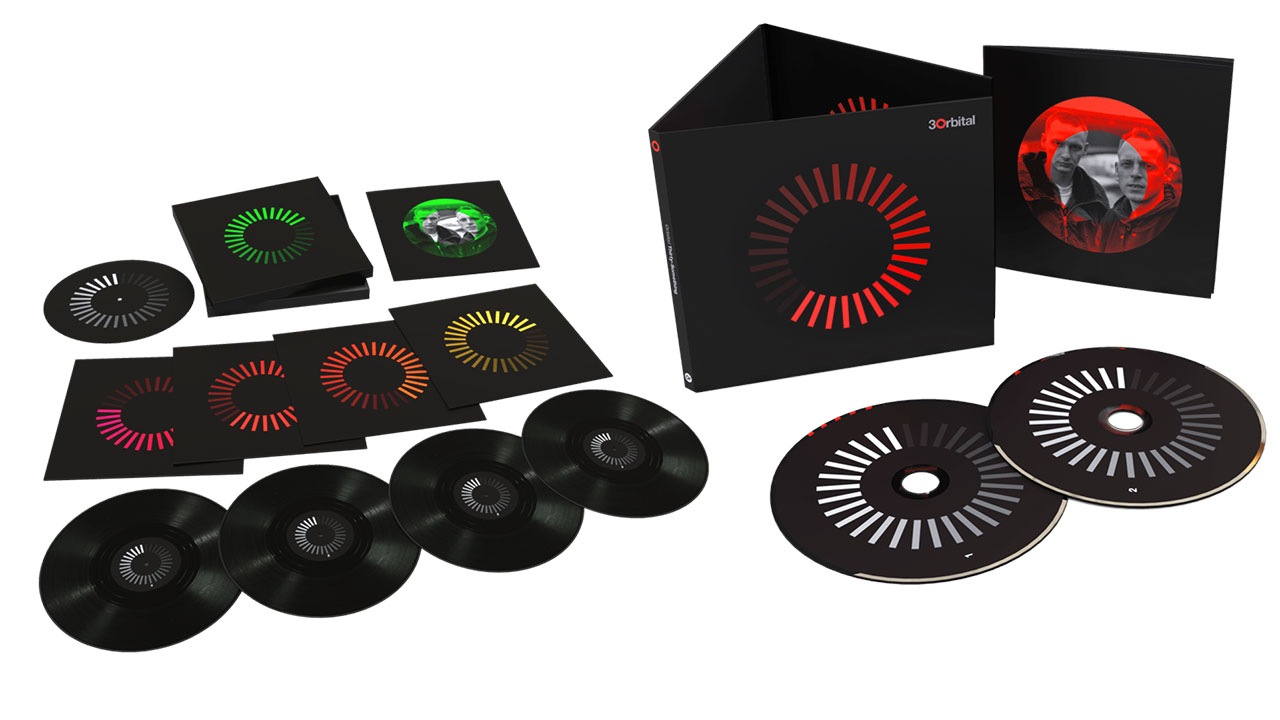 Here is a compilation of the best and most loved songs by the Sevenoaks born band before the end of the eighties. But this is no ordinary compilation, Orbital wanted to offer their legion of fans something a little special, with two unreleased tracks (a new one, Smiley, and an old one, Acid Horse) and the rest based on remixes by the Hartnolls themselves and a list of important names of which we have already heard some of the protagonists. Yotto, ANNA, Jon Hopkins, Dusky, Joris Voorn, Logic 1000, Eli Brown, Shanti Celeste, John Tejada, Floex, Octave One, Rich NxT and David Holmes.
It will be released in two formats, a lustful four-vinyl box set (including signed print and slipmat) and a two-unit cd format. Honestly, if only for (finally) being able to have that absolutely wonderful remix of Belfast by David Holmes, it's worth the investment.
Release date, July 15th, pre-order available now here.
Tracklisting:
Vinyl
A1. Smiley
A2. Satan (30 Something Years Later Mix)
B1. Where Is It Going (feat. Stephen Hawking)
B2. Impact (30 Years Later And The Earth Is Still Burning Mix)
C1. Chime (30 Something Years Later Mix)
C2. Halcyon (30 Something Years Later Mix)
D1. The Box (30 Something Years Later Mix)
D2. Belfast (30 Something Years Later Mix)
E1. The Girl with the Sun in Her Head (Floex Remix)
E2. Belfast (David Holmes Remix)
F1. Halcyon & On (Jon Hopkins Remix)
F2. Chime (Eli Brown Remix)
G1. Impact (John Tejada Remix)
G2. Are We Here? (Dusky Remix)
H1. Belfast (ANNA Techno Remix)
H2. The Box (Joris Voorn Remix)
H3. Are We Here? (Shanti Celeste Remix)
CD
CD1
1. Smiley
2. Acid Horse
3. Where Is It Going? (feat. Stephen Hawking)
4. Impact (30 Years Later And The Earth Is Still Burning Mix)
5. Satan (30 Something Years Later Mix)
6. Chime (30 Something Years Later Mix)
7. Halcyon (30 Something Years Later Mix)
8. Belfast (30 Something Years Later Mix)
9. The Box (30 Something Years Later Mix)
10. Are We Here? (Dusky Remix)
11. The Girl with the Sun in Her Head (Floex Remix)
12. Halcyon & On (Logic 1000 Mix)
CD2
1. Belfast (ANNA Techno Remix)
2. Impact (John Tejada Remix)
3. Chime (Octave One Remix)
4. Halcyon & On (Jon Hopkins Remix)
5. Are We Here? (Shanti Celeste Remix)
6. Belfast (Yotto Remix)
7. The Box (Joris Voorn Remix)
8. The Girl with the Sun in Her Head (Lone Remix)
9. Impact – Rich NxT Remix (Edit)
10. Chime (Eli Brown Remix)
11. Belfast (David Holmes Remix)
---