During the week there have been several publications announcing the opening of clubs in Germany. But this is not entirely true, or at least in part, or the information has not been accurate and has not been adjusted to reality.
All this during the week we are living through with the invasion of a sovereign country like Ukraine, which is going to give this moment of partial happiness for returning clubbers in parts of Germany a bittersweet taste. And the clubs, after being closed for so long and in need of cash, many of them have decide, in a noble and selfless way, to donate the profits of this first opening weekend to humanitarian organisations that are helping the Ukrainian people. Germany has been involved in these relief and humanitarian tasks in an exemplary way, and electronic music was not going to be less involved. Bravo.
But let's move on to the first of the topics. We know that Berlin is going to open the clubs today, and as always we turn to Clubcommission Berlin, that association that has been fighting for the rights of nightlife, which puts on its Facebook wall a post from LiveKomm, short for LiveMusikCommission, a non-profit association that covers, apart from live music venues, most of the clubs and festivals.
This is what they say in their statement:
"Club openings as patchwork quilt.
What does it really mean when it says this Friday, "Clubs open again"?
In Germany, initially uncertainty. Because the implementation of "openness" is a matter for the federal states, and here there is a huge problem. The state governments have completely different assessments of how club culture can work. So it happens that in the statutory "patchwork quilt" on a trip through Germany sometimes you can visit discotheques, sometimes not. The map shows which federal state is really opening up, where regulations remain hugely restrictive or even prevent club culture.
It is also shocking that in some countries it is not known on Wednesday evening which rules will apply on Friday night. For the situation after 19-20 March there is even less information."
This is the map they refer to, which is like this, like a patchwork quilt because in each Länder different rules apply: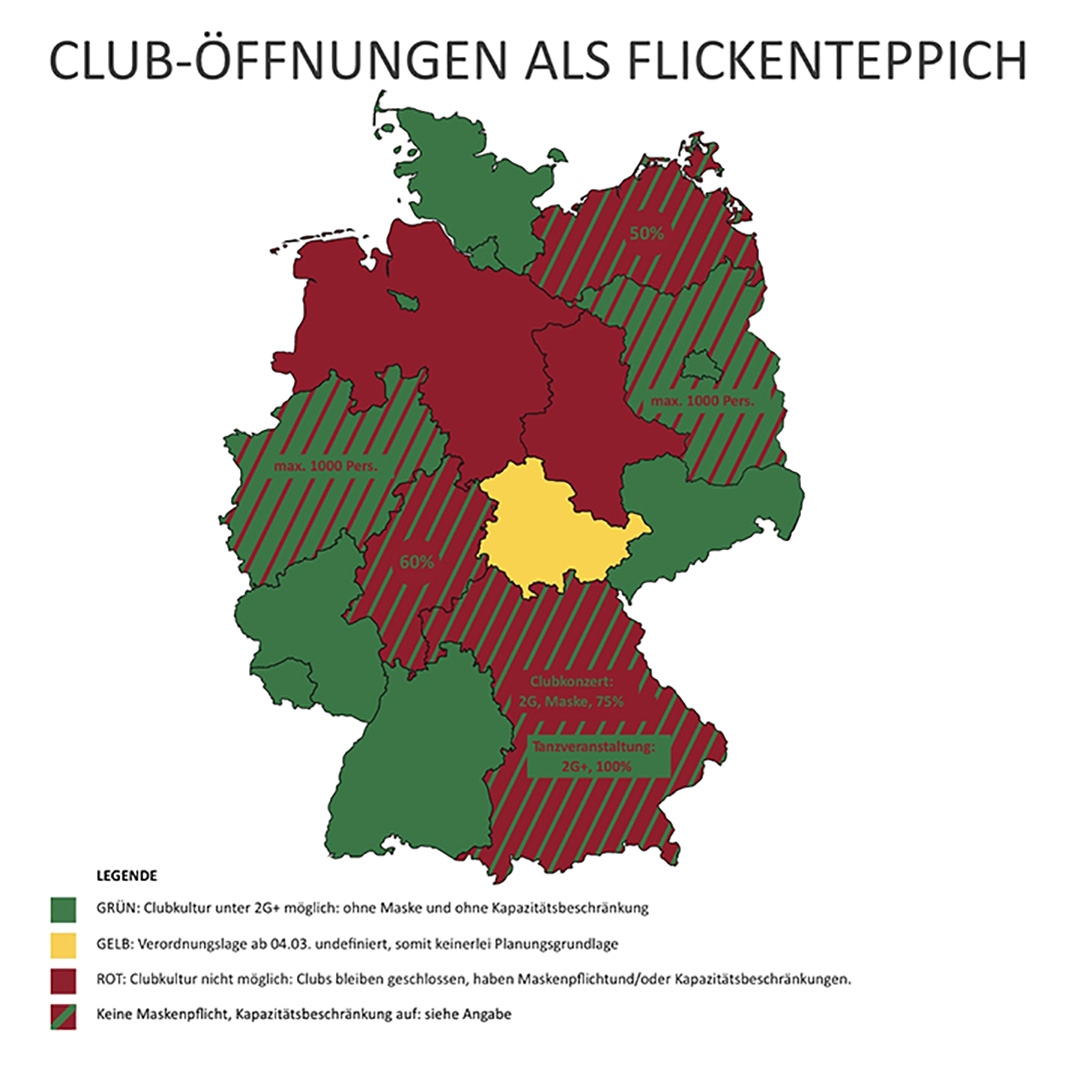 Green: Club culture possible under 2G+: no mask and no capacity restriction.
Yellow: Regulatory situation from 04.03. onwards undefined, so no basis for planning
Red: Club culture not possible: clubs remain closed, have to wear masks and/or have capacity restrictions.
Mixed: No mask obligation, capacity restriction to: see specification
This is something we can confirm first hand. We got in touch with one of the main agitators of the Munich nightlife, the Bockelmann brothers, better known as Glaskin. They tell us they were busy donating (they are also contributing to the crisis in Ukraine, all proceeds from the sale of their Slim Line EP, available here, go directly to charities involved in this cause), preparing some new music and finally getting sessions ready to play again. As 1051 Magazine readers know, the Blitz is home to the Bockelmanns, but they told us that things are going slowly and expressed their concern about how the next few weeks will go.
Let's go to another legendary club in Germany before flying to the capital. In Offenbach am Main, on the opposite bank of the river to Frankfurt, is a German nightclub classic, the Robert Johnson club, which has decided to wait until March 19th to open its doors. Superpitcher and Robert Dietz will be headlining that weekend, but until then, its doors will remain closed.
In Berlin things are different, as you can see on the map, the city will enjoy the least restrictions, although they are those covered by the German 2G+ rule, which means being vaccinated or recovered, plus current negative test. The two flagships of Berlin's electronic nightlife, Berghain with its Panorama Bar and Watergate, have already announced their openings.
Watergate opens this Friday, with Matthias Meyer and Tiefschwarz as the main attractions on the bill and with all proceeds from the night donated to humanitarian organisations in favour of Ukraine.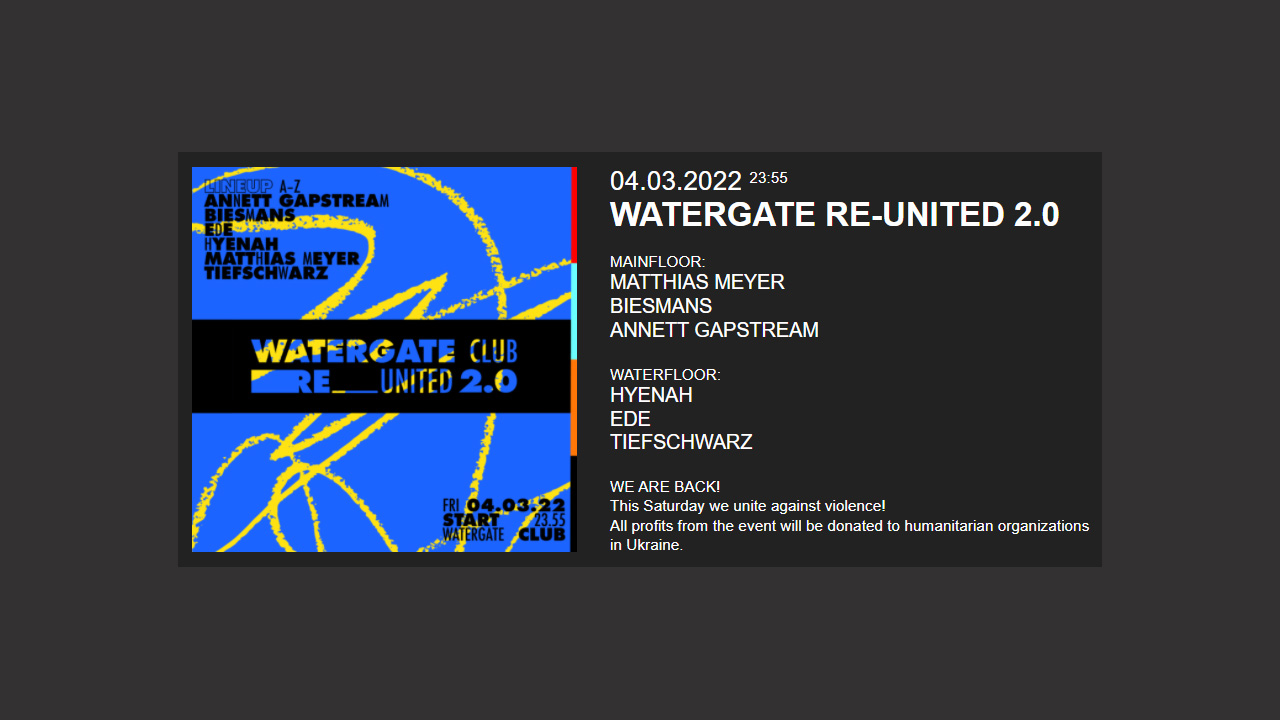 Berghain and Panorama Bar open on Saturday, with an impressive line-up as usual, with Bpitch boss Ellen Allien as the main attraction in Berghain, and at Panorama will be one of the bar's favourites, Cromby. All proceeds from this grand opening will go to organisations that are helping in the Ukrainian crisis, especially those focusing their efforts on the LGBTQIA+ community and those serving the black community, especially people from Africa.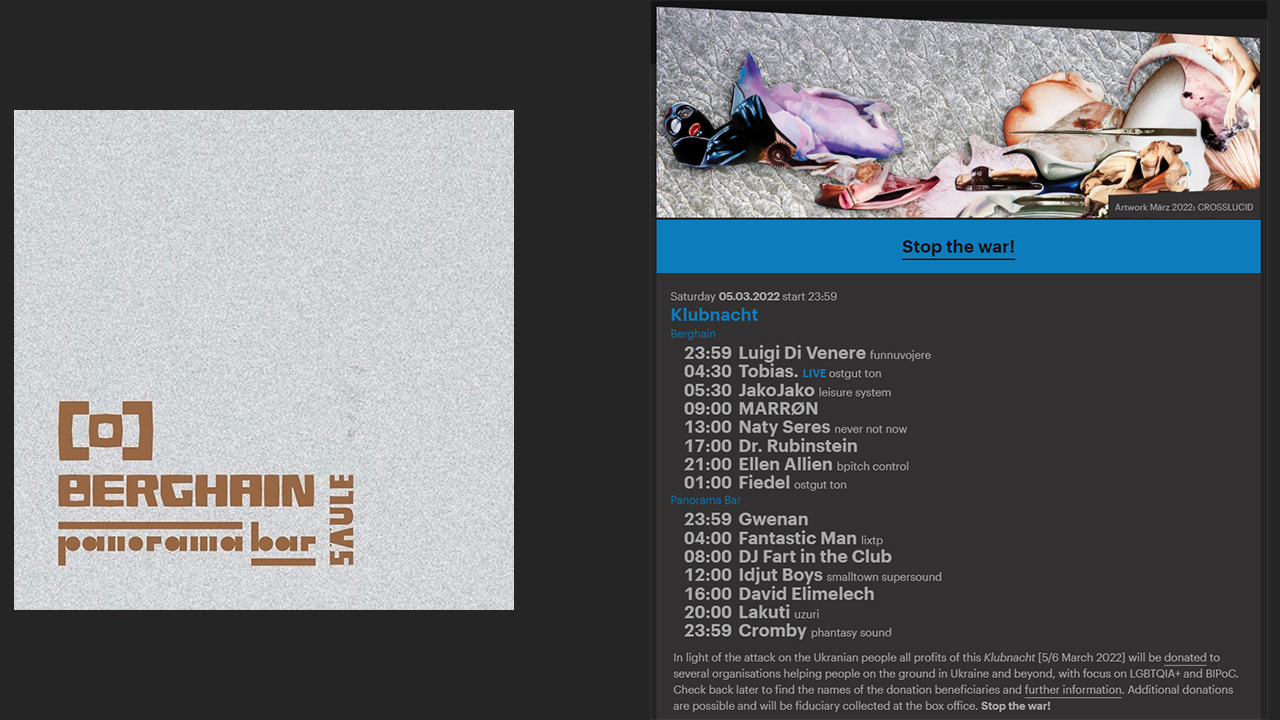 We have to close with the saddest part that we have been experiencing for more than a week now, but which is also unleashing waves of solidarity across Europe, and especially in Germany and the electronic music scene. This week we have reviewed initiatives such as that of Benjamin Fröhlich with his label Permanent Vacation, releasing a compilation with all the profits destined to help Ukraine (you can read our review here and buy the compilation here), or the EP released by Polish Piotr Figiel (review here, buy it here). We should also highlight the initiatives of Ukrainian artists and DJs, such as Etapp Kyle, who has launched another compilation to raise funds to help his country, Support Ukraine – Fundraiser VA available here. Or Alinka, whose Instagram stories are literally on fire every day with initiatives for transport, medical supplies, food, support for the LGBTQIA+ community… her help in spreading the word is invaluable.
To close, because to mention each and every one of the initiatives that are moving in the German scene are innumerable (I hope you will excuse us for not being able to name all of them…), the Clubcommission Berlin has announced on its Facebook wall and on its website an action. Lutz Leichsenring, spokesman of the association, defined it this way:
"Clubs are places of solidarity and political engagement. Artists and cultural venues in Ukraine are in a very precarious and potentially deadly situation. Despite the great challenges after two years of pandemic, it goes without saying that the Berlin clubs are now organising help."
This is the initiative:
Ukraine is going through an incomprehensible humanitarian crisis since Putin launched his war of aggression on 24 February. With Ukrainian activists and members of the Kiev club scene we have created a fundraising campaign to show our support. Clubs, collectives, venues, labels, DJs from Berlin and all over the world, please join us. It's very simple:
1. Choose an organisation to donate to. Here you can find the suggestions of the Ukrainian activists of Vitsche Berlin: shorturl.at/enBW2
2. Come up with a fundraising model (e.g. part of your income).
3. Download the campaign images (see here: shorturl.at/rCGH5). Explain the fundraising model in your communication.
4. Send us your name and logo: helpukraine@clubcommission.de
---